K's Smokey N The Bandit By Beau
Int/Am

Ch Moonlight K's Nikko of Mikado CGC
X
UK BIS AM CH Rossimon by the Boss AOM ROM


BoBandit

| | |
| --- | --- |
| Breeders: | K.Concannon/C.Stanley |
| Owners: | Kathryn Concannon |
| OFA: | AK-EL2108 (Normal) |
| CERF: | |
| Thyroid: | AK-TH294 (Normal MSU) |

BoBandit wins 2/RWD back to back at the Lakeland Winter Haven Kennel Club February 18-19, 2012, handled by Sammi for the first time. Thank you to Judges Mrs. Terrie Breen and Mrs. Lee Canalizo for this placement!

BoBandit wins 1/W/BOW at the Strawberry Cluster in Lakeland FL. A big thank you to Juge James Taylor and Mike Haas who handled BoBandit!

BoBandit wins back to back RWD at the Akita Club of Tampa Bay Specialty on Thursday, November 11, 2010. Thank you Judge Dr. Sophia Kaluzniacki for this win!. Goes on to win 3 pt major RWD on Sat, November 12, 2010 at the Hernando Kennel Club!!!! Thank you Judge Patricia Gilliard!

BoBandit wins 1/W for his first point at the Orlando Cluster on Friday, June 19,2009 handled by Mike Haas!!! Thank you Judge Dr. Gerald Mager!!!
BoBandit finally made it into the show ring on Sunday, January 4, 2008 after four attempts that were not his doing. He placed third in the Open class at the Jacksonville Dog Fancier's Show. He had such a good time thinking all those dogs came to play with him! He had a hard time settling down but we did get to make it around the ring and to finish our class.
BoBandit is one of a kind. He has a gorgeous head, beautiful facial markings and a temperament that is rarely seen in an Akita. He enjoys life and every creature he encounters is to be watched and studied and admired. He has not met a person that he has not liked, but make no mistake this gentle giant is a true Akita. BoBandit is a replica of his sire not only in temperament and looks but with his sire's signature tail and movement.
K's Kenji Kumamoto "Kuma" now resides at Katura. He is out of Nikko's last litter with Hagrid (Ch Tamarlane's The Sorcerer's Apprentice. Kuma is litter mate to K's Nomad Luna RN CGC, owned by James W, K's The Apprentice's Daughter at Katura CGC ,"Abbey" and IntCH K's Dream Chasin' With The Apprentice at Katura CGC, "Aimee". New photos to come.
Breeders:
Kathryn Concannon
Owners:
Kathryn Concannon/Katura Kennels
Whelped:
September 12, 2008
| | |
| --- | --- |
| SIRE: | CH Tamarlane's The Sorcerer's Apprentice |
| | |
| DAM: | Int/AM CH Moonlight K's Nikko of Mikado CGC |
| | |
| | |
K's Nomad Luna RN CGC
Atlas
Breeders:
Kathryn Concannon
Owners:
James W
Whelped:
September 12, 2008

SIRE:

CH Tamarlane's The Sorcerer's
Apprentice




DAM:

Int/AM CH Moonlight K's Nikko of Mikado CGC






Atlas rides white water with Cassie and Averi during 2010 season. It takes a very sound dog to ride a raft in whitewater, one that is confident in not only himself but in his owner and trainers. Great Job James!

Atlas rides as mascot in raft during 2010 season. Atlas is a prime example of what we are achieving with our breedings. Akitas that are very sound, of good temperament that can become part of their owners lives in whatever area they wish to train them; conformation, obedience, therapy, service and be wonderful companions as well.

2009 season Atlas learns to ride the rafts with Cassie.

We no longer co-own Atlas but we continue to be very proud of this young boy and his breeding. His new owner is doing a fantastic job with him. We will continue to update his activities for the many fans that Atlas has.
Atlas is now retired from the the show and performance rings and has a new career as the mascot/guide for James' rafting company RaftTheSalt giving raft tours on the Salt River in AZ. He is shown in the photo above in one of the rafts.
Check the Pic/Vid link on the web site and click on the 2010 SRR Photos to see more photos. Click on the video "What Salt River Rafting is All About" for a fascinating raft ride and yes that is an Akita in the raft. She was James' longcoat Akita, Osa, who he had for 13 years. She went everywhere with him and was a wonderful ambassador for the breed.
**Atlas has been traveling with his new owner James in Arizona, California and Mexico. He has been hiking, exploring and even went swimming in the Pacific Ocean! He lives in Colorado and travels with his new owner James who is an avid hiker and is involved with many outdoor activities.
---
---
We are very proud of this young boy and what he has accomplished in such a short time with his former owner Jason McCoy.
Qualified for his RN Title at 8 mos old at the Durango Kennel Club Shows in Cortez, CO on May 15!!!!
Earned CGC Title Friday at the LOEAC ACA Specialty!!! He finished 1st in his class in the Sweepstakes and 2nd in class in the regular classes, first time in the ring!! Atlas was handled by Chris Stanley in conformation and owner Jason handled him for the CGC.
Earned another qualifying score in Rally on Sunday. He needs one more to earn his RN Title!! He finished 2nd in his class all three days in conformation!!
Atlas continued on with placing 4th in Rally on Sat He actually tied for 3rd place but was a few seconds slower so it went to the other team. Baby Atlas was up there with 3 older Aussies, did us proud!!! Way to go Team Atlas!!! He placed 2nd in his conformation class.
Atlas is a substanial boy with a ton of potential for a show career, Obedience, Agility and Therapy work. He has a fantastic temperament and at a young age was showing himself to be a "Champ." Atlas is out of the breeding between Ch Moonlight K's Nikko of Mikado CGC and Ch Tarmalane's The Sorcerer's Apprentice. He was trained by his owner Jason and handled by Chris Stanley. Atlas was co-owned with Jason McCoy and K. Concannon/ Katura Kennels. He is shown here at 4 mos old.

Atlas giving Hi-5 to all his fans!!

Atlas is shown below at 6 mos old with his former owner, Jason McCoy. Jason had waited a very long time to own his first dog (over 30 years!). He had high expectations and goals set for Atlas who had the potential to meet every one of them. Unfortunately due to a tragic incident, Jason passed away on August 12, 2009 before he could attain all his goals. He had a great start training and exhibiting Atlas and will be missed very much as part of Team Atlas. He set a good foundation for Atlas' training and will be remembered fondly for what he had accomplished with him.
Atlas has attended and finished:
2 Puppy Obedience classes,
2 Advanced Novice Obedience class,
2 Puppy Agility classes
1 Obedience Competition Prep course.
Additionally, Atlas has earned:
AKC S.T.A.R. Puppy certificate
Canine Good Citizen (CGC) title
Rally Novice title (3 Rally Novice A Qualifications @ 8 months in two weekends).
In Conformation, Atlas has earned in two weekends of showing:
4 - 2nd-place ribbons in the 6-9 class
1 - 1st place ribbon in Sweepstakes puppy 6-9 class at the LOEAC Specialty held in Albuquerque NM in May.
Jason McCoy
March 8, 1976 - August 12, 2009

Below is Atlas' Pedigree that Jason designed.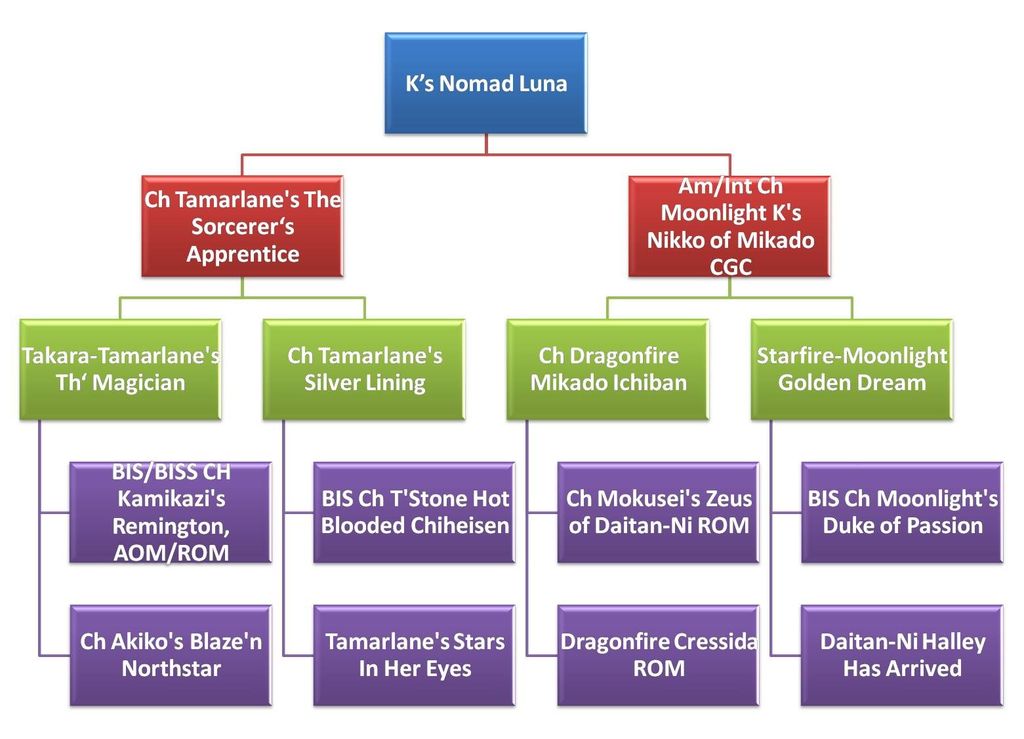 K's Chill'd To The Maxximum
Am/Int CH Moonlight K's Nikko of Mikado CGC X BISS CH Breezewood Imarri HesTheMan
Maxx
10-21-2005 - 03-26-2012

Maxx was a sweetheart! He was Nikko's son from her first litter to BISS CH Breezewood Imarri HesTheMan. Maxx was a substantial typey male Akita with a wonderful temperament. We miss his sweet hugs and soft woowoo's and regret that he had limited showing.

Maxx won RWD to his half brother BoBandit at the Orlando Cluster, June 19, 2009, owner handled. Thank you Judge Dr. Gerald M Mager for this win.

Maxx won 1/RWD at the Akita Club of Tampa Bay Specialty his first time out handled by his co-breeder Chris Stanley. Thank you Judge Beverly Vics for this win! Maxx went on to win back to back RWD at the Greater Venice Florida Dog Club, owner handled. Thank you Judges Dr. Eric Liebes and Linda I. Robey for these wins!

Breeders:
Kathryn Concannon/C.Stanley
Owners:
Kathryn Concannon
Whelped:
October 25, 2005

| | |
| --- | --- |
| | 59383 |
| OFA: | AK-13371G (Good) |
| OFA: | AK-EL 1699 (Normal) |
| CERF: | AK-4702 |
| Thyroid: | AK-TH 287 (Normal MSU) |