While waiting for our next Akita breeding, here are some photos of dogs that we have produced and their offspring out of our foundation bitch Nikko (AM/INT CH Moonlight K's Nikko of Mikado CGC)
First and Second Generation
This is our latest photo of Vixen (CH Moonlight Kiseki's Kall Girl CGC, VA RSD, owned by Linda Logan) who is training Linda's son Kris in the Jr Show Rings :) They are shown at their first Jr Show Seminar out in Palomar, CA. Vixen is a Nikko daughter out of Nikko's second breeding with Beau. (UK BISS/AM CH Rossimon's By the Boss X AM/INT CH Moonlight K's Nikko of Mikado CGC) Vixen will also be working towards her AKC Grand Championship. She is now a Registered Service Dog, we're very proud of her and her owner.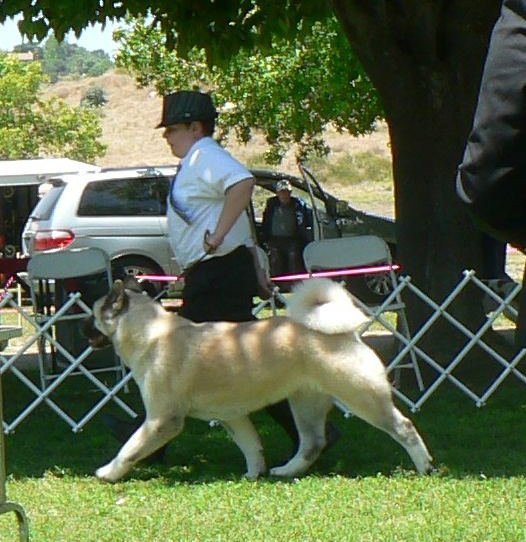 Kiseki's Don't Stop Believin' "Journey" is a Vixen daughter and granddaughter of Nikko X Beau. She is shown here at 11 1/2 mos old. Journey has both her AKC major points. She has also placed with a BBE and BB Group 1.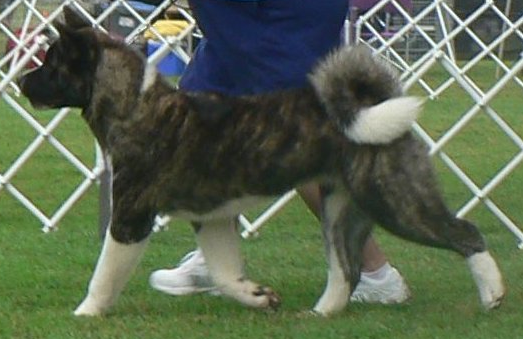 Kiseki's Raised On The Radio "Tuner"is litter mate to Journey. A Vixen son and Nikko X Beau grandson. Tuner is a substantial male with an awesome temperament. Tuner won Best In Sweeps his 1st time in the ring at 7 1/2 months. His first five times showing he placed with a BBB and a BB Group 3.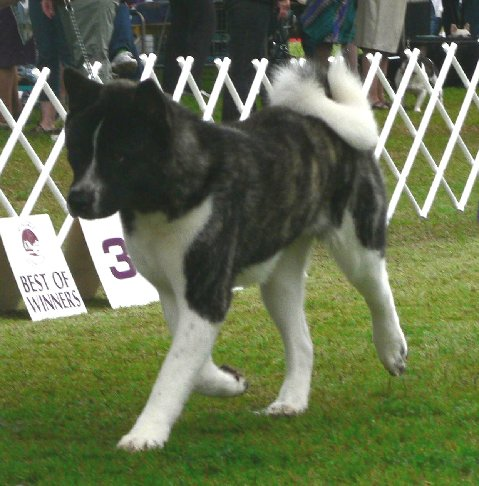 Moonlight Jerry Garcia "Jerry" owned by Max Fischer co-owned by C. Stanley. Jerry is beginning his training program for the rings, he is shown at 4 months old. He is a grandson of Nikko and Chill, Nikko's first breeding. (BISS CH Breezewood Imarri HesTheMan X Am/Int CH Moonlight K's Nikko of Mikado CGC) A Wyatt X Scarlet son (CH Kumakura's Last One Standing X Moonlight Scarlet Fire, Nikko's daughter.) He will be shown by Wyatt's owner Ree Keca.

Potential Pedigree of Puppies
If you are interested in a puppy from Katura Kennels, please answer the questions below and return to us via email at katurakennels@aol.com
Your name, address, and e-mail address/telephone number.
Your family members (adults in household and number, age of children, if applicable.)
Your type of housing (house,/apartment), yard size and fencing.
Place of employment/work telephone number.
A brief synopsis of how an Akita would fit into your life.
Why you want an Akita and any past experience you have with dogs. Have you ever owned an Akita before?
What research have you done about the Akita regarding training, socialization, discipline, health issues, nutrition and housing.
Name/telephone number of your veterinarian.
Two references. Please include their name, address and telephone number, how long you have known them.
We maintain a Reserve List* for our litters. A deposit of $250 (companion) or $500 (show) and approved applicant screening is required to reserve a puppy. Deposits will be accepted after pregnancy has been confirmed by ultra sound. Contact us for pricing of our companion or show puppies at katurakennels@gmail.com . We reserve the right to refuse a placement that is not in the best interest of our Akitas.
Payment may be made by check, cashier's check or PayPal (fees charged by PayPal are client's responsibility and are in addition to price of puppy.) Please make all checks payable to Kathryn Concannon.
*Reserved puppies are placed first, then qualified potential owners. Puppies are not placed until they are evaluated and determined to be either a show or companion puppy. Owner/Breeder/s reserves the right to first picks of litter.