Sammi and Lucas
at the Show
St Petersburg 6-2012: Sammi and Lucas were at the St Petersburg Shows Saturday 6-16-12 for the classes and Jr Show with the Tibbie pups for their first shows. Lucas showed Thor in Jr Show and the class. Thor did very well for his first time showing even tho they didn't place for Jr Show but won 1/Winners in his puppy class as the only entry. Thank you Judge Carolyn Herbel for that placement. Tessa placed 2nd in the BBE class and Delta shown by Sammi placed 2nd in the Open Class with 5 entered.
The Jr Show lineup before judge rearranged them.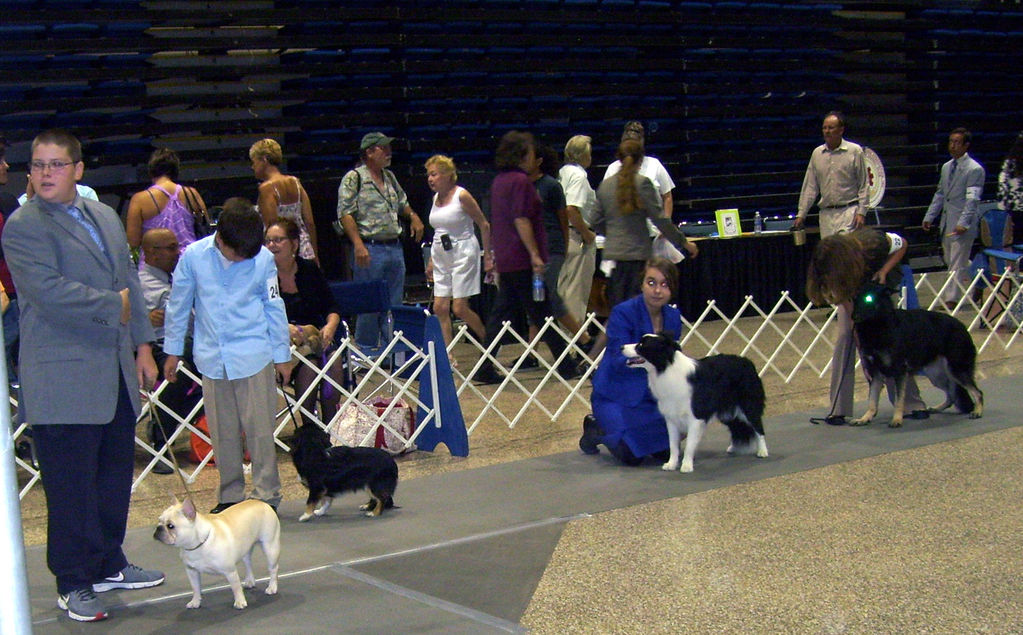 Lucas and Thor up and down in Jr Show.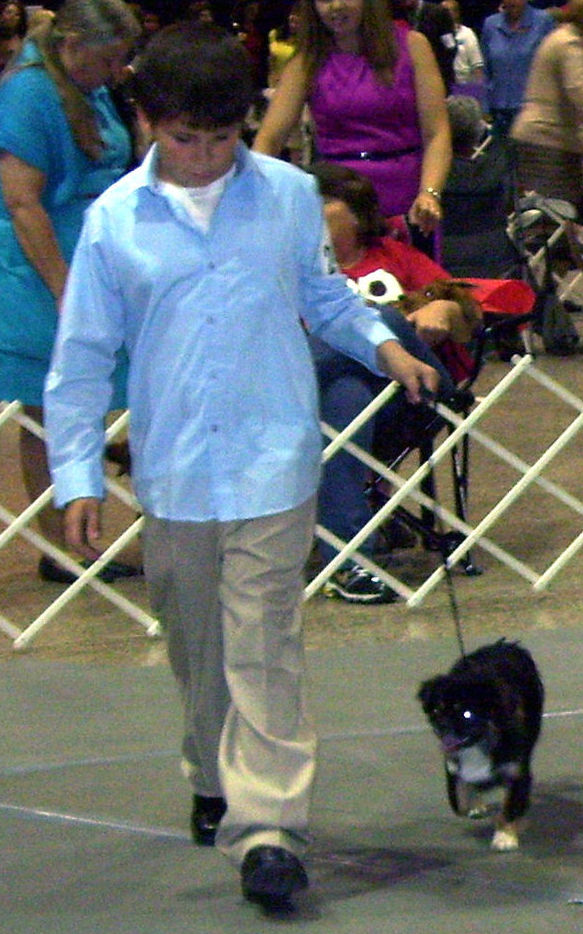 ACTB REGIONAL SPECIALTY SWEEPS 11-2012: Velvet and Sammi win BOSS in the Akita Club of Tampa Bay Regional Specialty Sweeps! Thank you Judge Mary McDaniel for this placement!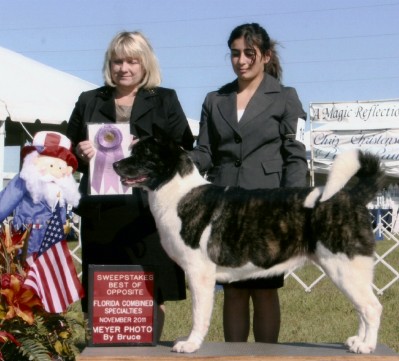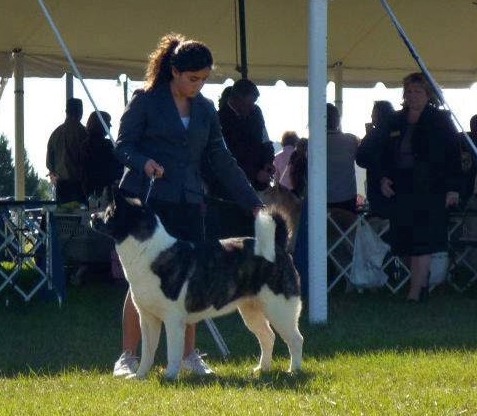 Aimee takes
1/W/BOB
at the Italian Cluster in Arcadia, handled by Sammi. She is now AKC pointed. Abbey takes
2/RWB.
Both girls pass their Canine Good Citizen test and now have an adddition to their names.

A new "handler" joined us here at Katura Kennels. Sammi's younger brother, Lucas, turned nine and is now a registered Jr Handler with AKC. He will be showing Delta in Jr Show and had his first show at the Strawberry Cluster on Feb 20. He placed 2nd in the Jr Show Competition, first time out! Way to go Lucas and Delta.

Sammie takes Aimee round the ring for 1/W/BOB at the Strawberry Cluster in Lakeland. Thank you Judge George Marquis for this placement.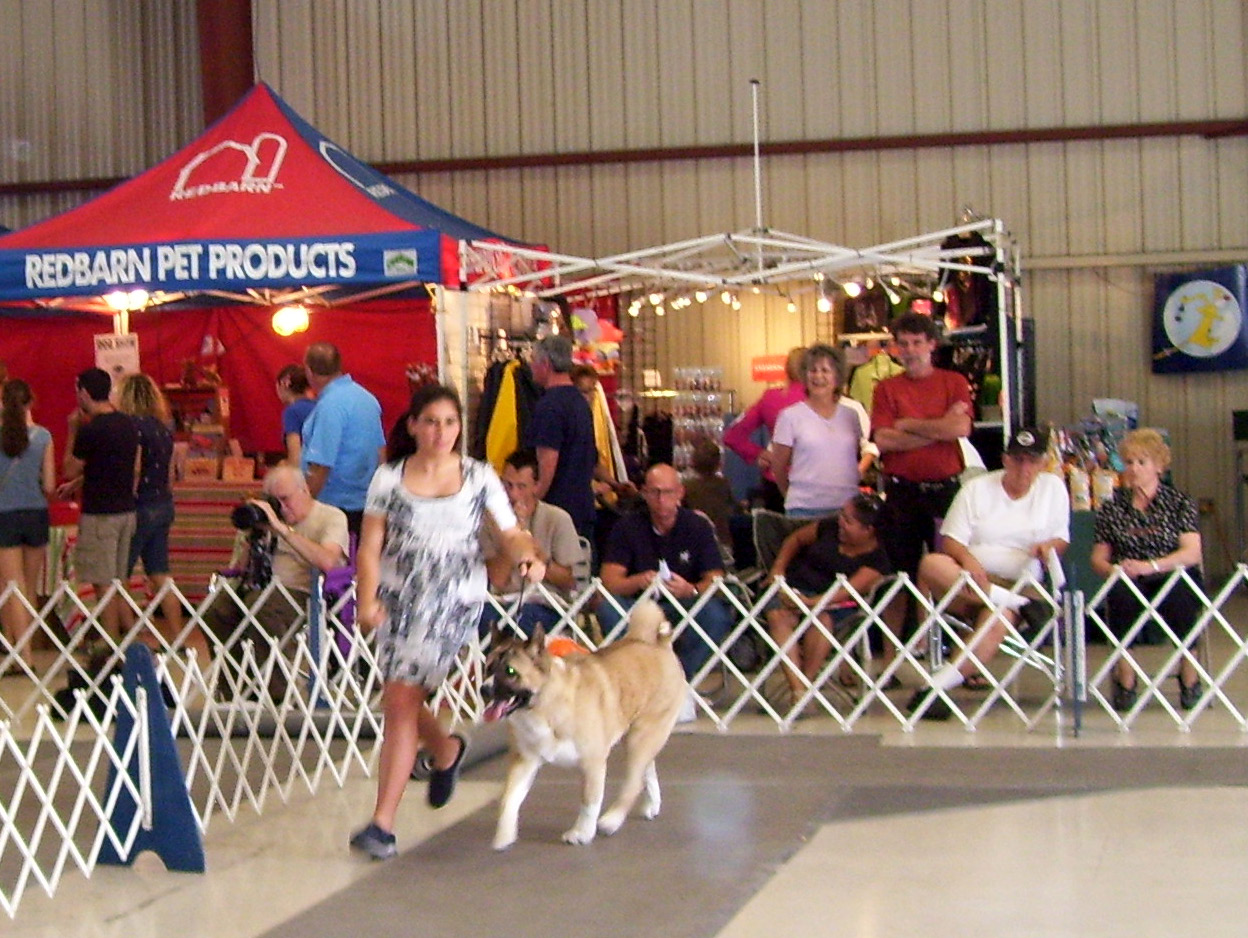 Lucas placing 2nd in Jr Show with Delta!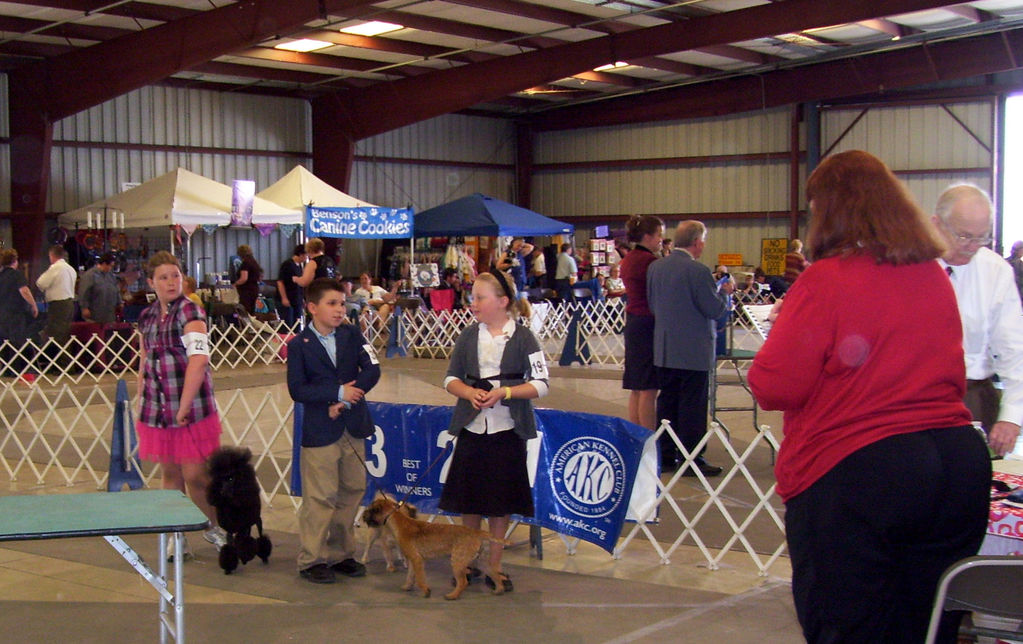 Delta earns her CGC award at the Greater Ocala Dog Shows! She was trained and shown by Sammi.
Sammi and Delta receive congratulations from CGC Evaluator Nancy Dunleavy. View photo album of the testing.
Sammi did a fantastic job showing Abbey (K's The Apprentice's Daughter At Katura) in both the classes and Jr Showmanship at the shows at Deland. She placed 3rd both days in the classes and 3rd in the Jr. Showmanship under Judge Carolyn Herbel! This was her first time handling Akitas. She also attended the AKC Registered Handlers Program "An Afternoon with the Professionals."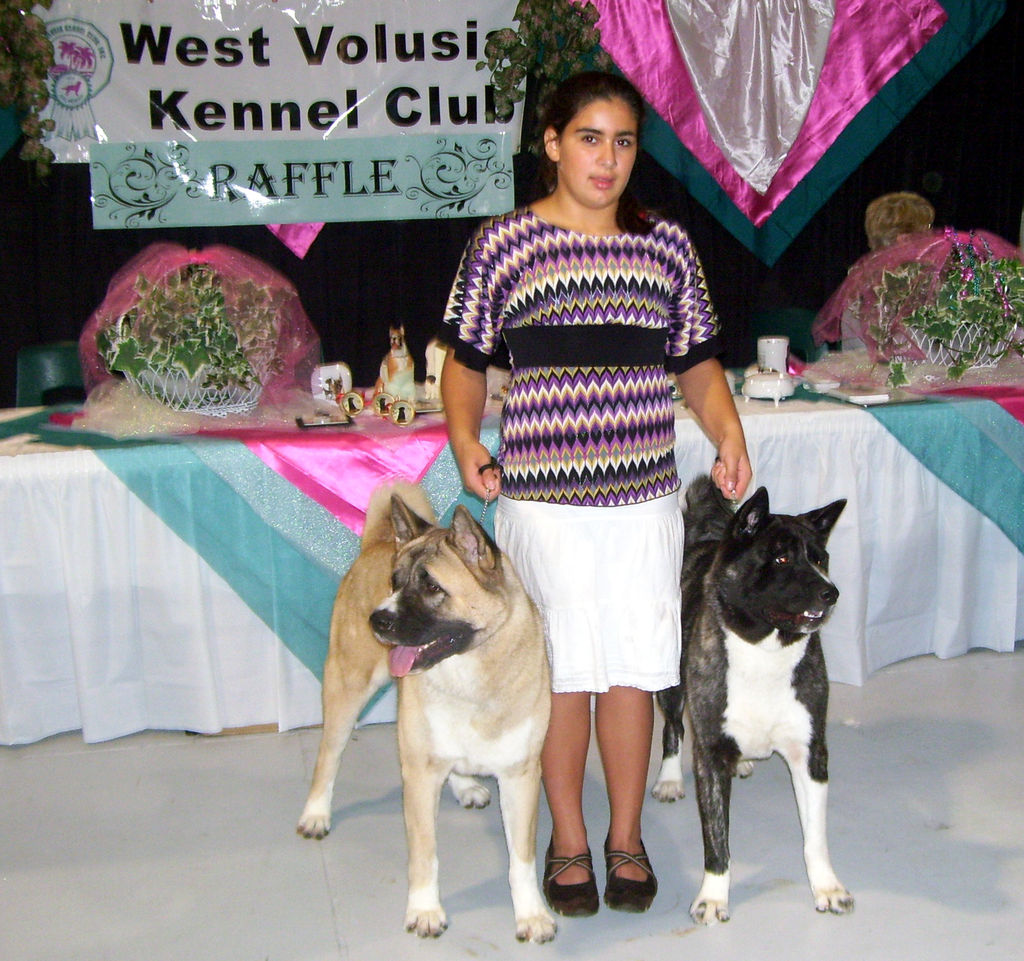 Deland, Fl. September 25-26, 2010: Sammi and Abbey finished 3rd in Open Class both days and 3rd in Jr. Show. Sammi is shown placing 3rd in Jr. Show under Judge Carolyn Hubel.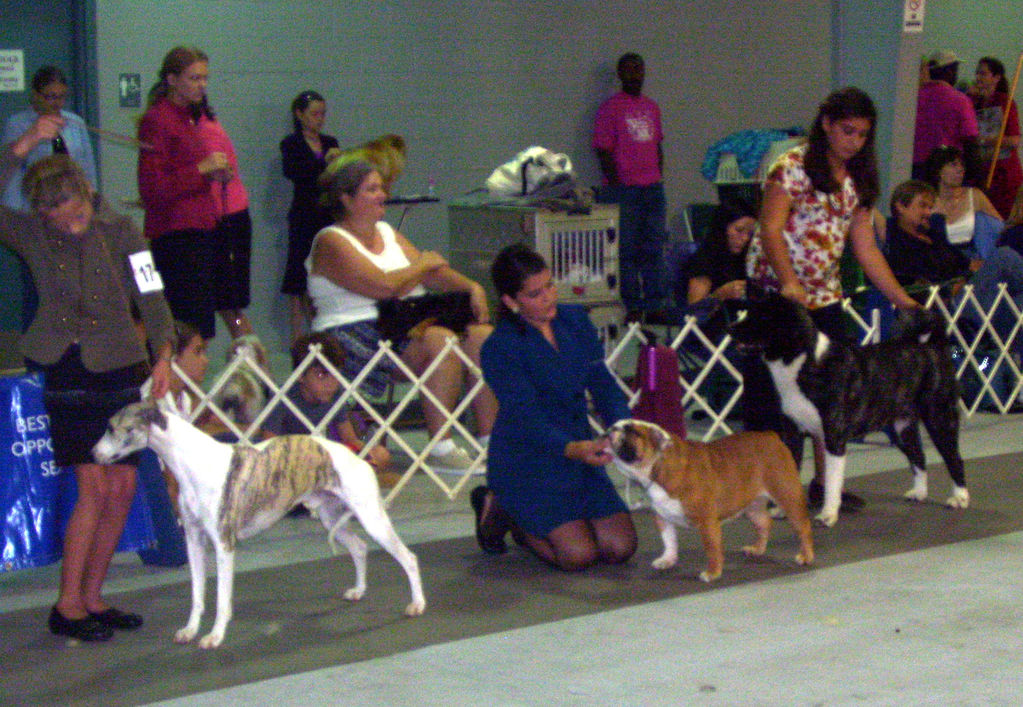 "An Afternoon with the Professionals" Deland, Fl September 25, 2010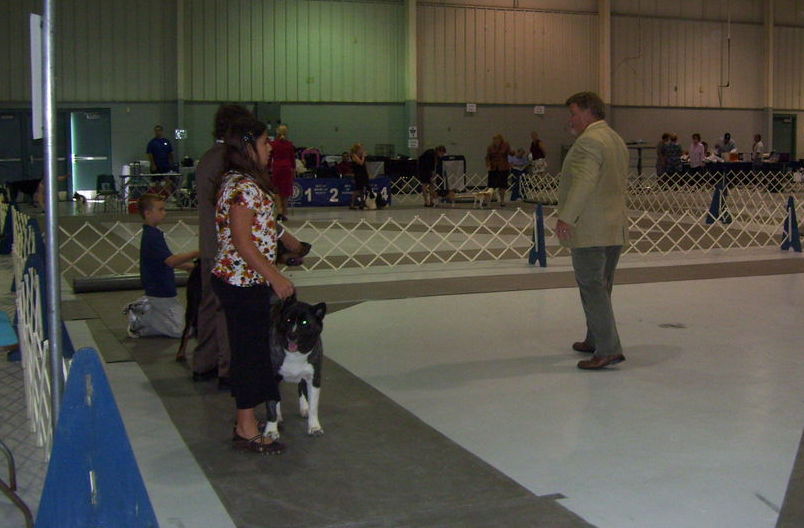 Orlando, Fl. June 25,26,27,2010 Majors held all three days! Girls finished 3rd on Fri and 4th on Sun.
Ocala,FL November 14-15,2009 A cold rainy day. Girls were troopers and showed in the freezing, pouring rain. Placed 4th in their class.
Deland, FL, September 26-27, 2009 Delta places third in Open Class both days. Sammi places First in Open Junior in Jr. Showmanship in Sat show. This is her second First placement in the Open Junior Class.
***FLASH Ft Myers FL.*** Delta goes 1/W/BOS to win a 3pt MAJOR and Sammi goes 1st place in Open Junior in Jr. Showmanship at the Greater Fort Myers Dog Club in N. Fort Myers, FL!!! Great weekend for the girls!! Sammi showed Delta on Sat but as Sammi had a musical program on Sun, Delta was owner handled . A big Thank You to Dr. Bernard McGivern Jr for this win!!! Delta now has 7 points, including 1 major, 4 BOS, 3 RWB, 1 BOB/BP!
Palmetto, FL Sammi and Delta finishing 3rd in the class ring with Judge Ms Sandra Allen Goose commenting that Sammi was a very good handler!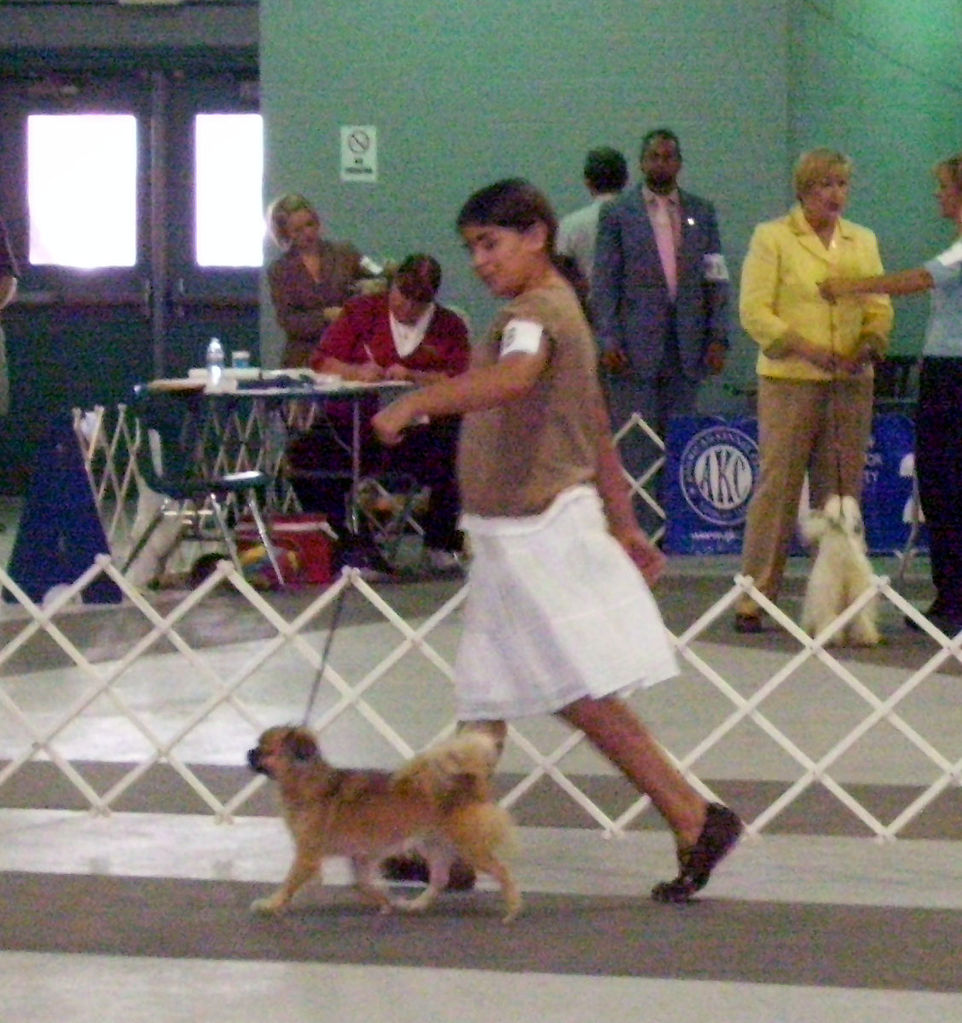 Strawberry Cluster Delta placed 1/RWB on Saturday February 14. Sammi placed 3rd in the Jr. Showmanship with Delta both Saturday and Sunday. This was her first time competing in the Open Junior Class! Way to go Sammi!
Florida Classic Cluster I, Brooksville FL As Sammi went on vacation, Delta was owner handled in Deland and at Brooksville, Fl at the Florida Classic Cluster I. On Fri, 01/09/09, Delta placed 1/W/BOS for 2 points! Thank you Judge David Krogh for this win! Delta now has 4 points towards her Championship.
Central Florida Kennel Club, Orlando, FL Sammi and Delta finished 1/RWB on a 3 pt major at the Central Florida Kennel Club on December 13. Sammi finished 1st in the Jr. Show Class back to back on December 13-14. She is now eligible to move up to the Open Junior Class!
Hernando Kennel Club, Brooksville FL Sammi and Delta win 1/WB/BOS back to back at the Hernando Kennel Club in Brooksville Fl!! Delta now has 2 points! Sammi takes !st Place in the Jr. Showmanship Novice Class on Saturday and 3rd Place on Sunday the same weekend! Thank you Judge Fred Bassett and Judge Elliott Weiss for these wins! Sammy is shown below with Judge Fred Bassett winning their first points.
Sammi and Delta are back in the rings! They attended a Jr. Showmanship, Seminar and Regular Class show at the West Volusia Kennel Club in Deland Fl on Sat. Sept. 27, 2008. The Seminar was very helpful and a BIG thank you to all the Pro Handlers that gave their time to help these young handlers! The two girls placed 4th in the Jr. Showmanship and won 1/RWB in the 12-18 mo class with Judge Sonny Ambrosio!
Sammi and Delta in the Jr. Showmanship ring with Judge Houston Clark placing 4th!
**Sammi and Delta in Jr. Show Ring in Lakeland.