AKITAS AT WORK
Akitas not only make wonderful family companions but there are many areas of work that they can and do perform. We are seeing more and more areas of performance that an Akita can excel in given the proper training.
The Akita was first used for hunting and as the family protector of the family in Japan. Today, the Akita is seen in the competition performance ring with Agility, Carting, Herding, Obedience, Rally and Tracking. They also serve in Search N Rescue, Recovery and as Therapy and Service Dogs. Below are photos of Akitas as they do the work they have been trained for. More will be added as they are acquired.
SERVICE: Nikko, Ch Moonlight K's Nikko of Mikado CGC, our foundation girl became our first Service dog. She had a natural ability which she has passed on to her offspring. With additional training she became a faithful Service Dog.
She has a two daughters, Vixen and Abbey, who are Registered Service Dogs and a son, Mr Ed, who is a Certified Therapy Dog.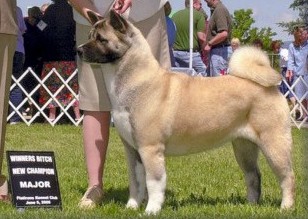 THERAPY: "Mr Ed", Moonlight K's Moonlight Cassanova, a Nikko son is a Certified Therapy Dog who visits the Veterans Hospital weekly to visit our veterans. He was bred by Katura kennels and is owned by Larry F
.
AGILITY:
Many Akitas are active in Agility, Obedience and Rally.

Dolcenea, owned by Debbie Fletcher, is the MOST TITLED AKITA with 88 titles. Dolcenea is making history at only 5 years old, she is the only Akita titled in every agility venue running in the United States.
Click the links to see her in action.


RETIEF, Grand Agility Champion, owned by Mrs. Alice South
www.performanceakitas.com

GUIDE/MASCOT:
Atlas (K's Nomad Luna RN CGC) is used as a guide and mascot for his owner's company RaftTheSalt located in AZ.
Atlas was bred by Katura Kennels and resides in Colorado.


HUNTING:
BelaRussian CH Rajan is hunting wild boar with his owner. I love this photo as it shows the Akita with his courage and power as he performs his job, which was to hold the game until the hunter game.
Rajan was bred by Chris Stanley of Moonlight Akitas and resides Europe.